Hekmat holds a PhD in Semitic languages from Leiden University (2017) and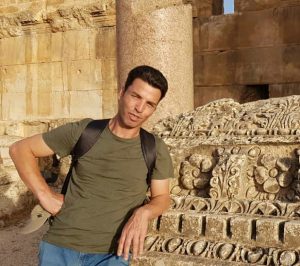 an MA in Assyriology (2008) and a BA in History from the University of Aleppo. Besides scholarship, he works as a translator.
His areas of interest include onomastics and name-giving in Semitic languages, revolt and resistance in the ancient Near East, and the literary and religious relations between ancient Near Eastern civilizations and pre-/early Islamic Arabia. A selection of his publications can be found on his page on academia.edu.
One of Hekmat's long-term goals is to introduce recent knowledge in the fields of Near Eastern and Arabic Studies to the general public. He started this project in 2017 through a well-known Arab ezine called Al-Araby Al-Jadeed 'The New Arab', where he has published several papers.
Hekmat is also a poet. A collection of his poems appeared in 2018  (A short coverage in English can be found here).
Working days: Thursday and Friday (10:00-15:00)
Phone:  (+31) 71 527 1675